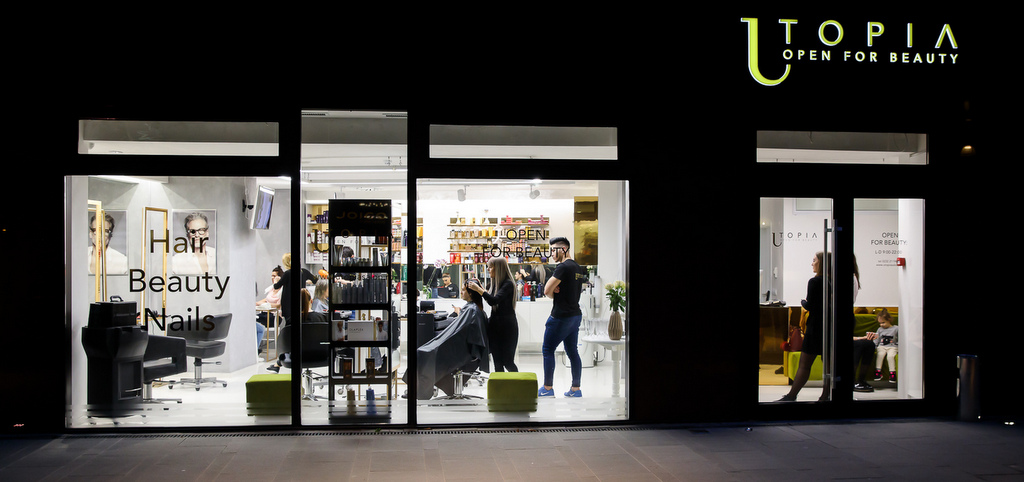 Utopia is located on the ground floor of the UBC 1 office building in Palas, in the vicinity of Café Papillon. The salon is open daily from 9:00 to 22:00 and offers professional beauty, make-up and hair styling services. Customers are welcomed with welcome offers and subscriptions, business preferential packages and special events as well as 50% discounts on the latest technology for permanent hair removal and facial treatments.
Those who cross the threshold of Utopia benefit from the experience of over 10 years in providing top hair and beauty services for both men and women. The salon's offer includes hairdressing, hairdressing, cosmetics and manicure, to permanent hair removal and facial and body treatments. Utopia is the guarantee of quality, through international team awards and collaboration with state-of-the-art equipment, and is also a benchmark of originality in beauty. The stylists of the salon are constantly connected to the trends in the field and ready to provide advice, implementing the latest techniques and using professional products for the first time in Iasi.
Every visit to the Utopia Salon in the Palas ensemble is a complete pampering session with the best quality services and new solutions and ideas for a contemporary look that highlights the traits, beauty and personality of each.