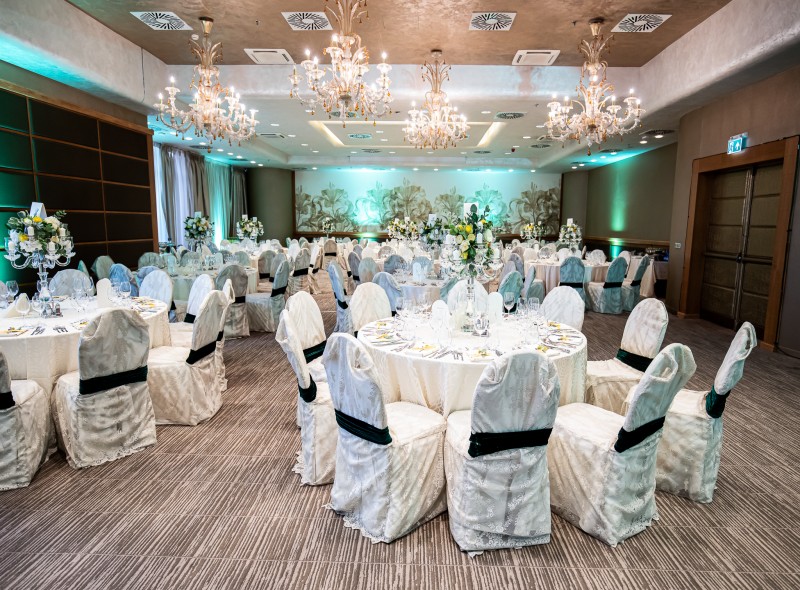 For special events, business meetings and symposiums, we have 3 most elegant halls, with distinguished decorations and generous in terms of space, located on the last floor of Palas Mall. Having direct access from the outside, by the escalators or elevators from the underground parking lot, the halls feature terraces and offer a splendid panorama on the Palas Garden and the Palace of Culture.
The Mozart hall has 60 seats, Chopin hall 150 seats and Vivaldi hall 130 seats. Together, the Chopin and Vivaldi halls offer a generous dance floor and an impressive capacity: 300 seats.
For ceremonies (weddings, Christening parties) the Palas ensemble reunites all highlights and the perfect scenery to create the ultimate event. The Palas Garden offers multiple photo opportunities in the lake area (provided with a special gazebo), plazas, the Venetian carousel, as well as in the vicinity to the Palace of Culture. The most distinguished environment is supplemented by state-of-the-art services for very affordable prices.
For bookings please feel free to fill in the form on the left or send a direct e-mail to: evenimente@palasiasi.ro.
More details on www.congresshall.ro. 
The Event Leasing Palas team offers you any further details: